Messinia Drinks Andania water
What is precisely Andania ? The name of the Kapodistriakoy Municipality based in Diabolitsi, will be the most common answer. Other that have done some extra research will say that it was the first capital of Messinia, the kingdom of Polykaon and Messina. From now on, however, the word Andania will mean quench thirst and coolness…
Andania is the name of the water that South Peloponnese is drinking and it is bottled in Diabolitsi. Vassilis Charitsis, the chemical engineer with postgraduate studies in the bottling industry in New York and Spain and with an impressive CV in this field, He is the man who will quench thirst the Messinians and the Peloponnese with the water of their land.
"Messinia now has its own bottled water, which, after a decade of examination, did not present the slightest problem. From a chemical point of view and especially from a microbial point of view" it is perfect, says Vassilis Charitsis, who took us to his state-of-the-art bottling plant, which has been created at the premises of his company ERGOPACK ABEE, in Diabolitsi.
The Water Andania is pumped by drilling in Diabolitsi and, as Vassilis Haritsis notes, "it is pure underground water. We've isolated all the surface ground water, gone under the rock of the mountains around us and found the vein. The drilling is at 85 meters deep and the water is artesian, it comes out on its own ten months out of twelve. This water has many characteristics it is a natural mineral water and spring water. We have started the process and within the next year we will also have this recognition from the European Union."
… A natural mineral water and a spring water

Why the name Andania though ? Obviously it was named by Vasili Charitsi due to his origin and birthplace, He says: "In our region Pausanias determines the location of the first capital of Messinia, Andania, the city of Aristomeni. In addition, however, Pausanias also refers to a great water source of that time. This information that the browser gives us was the inspiration of the name Andania".
Andania water has a graceful name, it is literally refreshing, it is produced in our region, has an elegant stylish and a prototype bottle. Our first goal is not to win only the local Messenia market but all South Peloponnese. After all we are the only company that bottles local water despite the water wealth. The motivation for traders and professionals in order to promote Andania Water it's not incurious.
Vassilis Charitsis notes: "It is important that keep a close eye to the market we are targeting, which means that transport costs are reduced. We enable any customer to buy in satisfactory prices and in small quantities so they don't spend extra money. Until now, in order to achieve good prices, a transaction was made for large quantities, which means that a significant amount had to be committed to close the agreement, there had to be storage space, and water quality issues were also being addressed because of its exposure to conditions that are not the most appropriate. On the contrary, we have the ability to give small quantities at good prices. Now our associates can get 2-3 pallets instead of 25 to fill a truck, for example. This is where all our movement is based."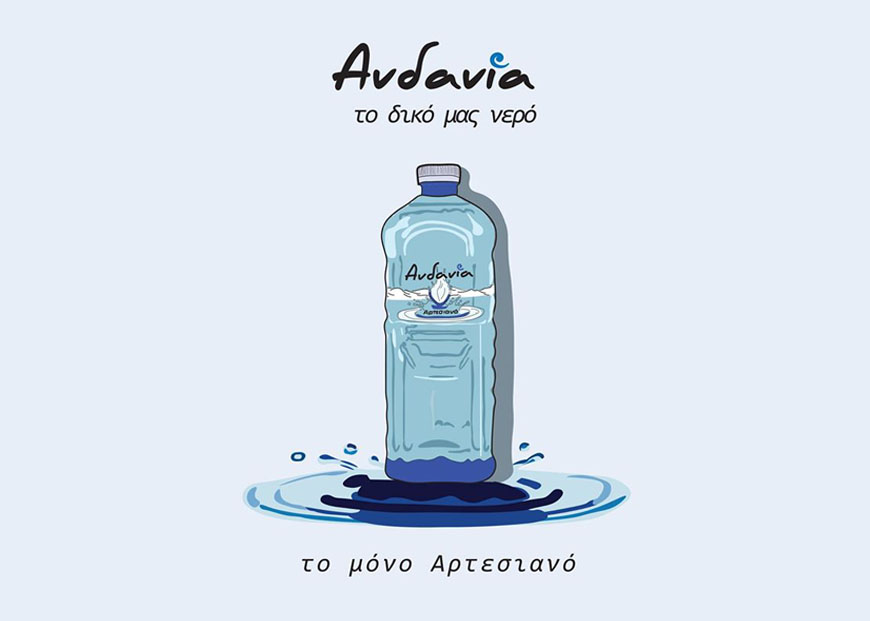 Artesian Water with pure underground origin that gives a pleasant taste of freshness.
Gushes at the foothills of virgin Arcadian mountains.
Bottled under the strictest standards with the most modern equipment.
The bottler from the Andania region told us about this new business step with confidence, he seemed to know well the job in progress, what are the demands and what his risks are. And how could he not know, though, with his experience .He studied chemical engineering at the Polytechnic University and began his career in HBI-Panagopoulos, in the water bottling plant in Loutraki. The company was then bought by PEPSICO International, the American giant. He became director of the factory in Loutraki and an expert of the company worldwide in water bottling issues. He also did postgraduate studies in New York and Spain at Bottling University and ,as he points out, "I was lucky to be in a multinational company of this kind, with 700,000 employees, and I was one of its executives who had stood out.
At some point, however, I wanted to do my own thing, I resigned and continued in this piece as a consultant to 3E, NESTLE and other companies, in the water sector always. I also worked as a private individual, developing partnerships with some partners with industries on packaging materials and facilities, setting up a water and soft drinks bottling plant. During my time leaving PEPSI-COLA, although I did not represent any company, I was president of water bottler Greece, an association that included all the major companies, NESTLE, AMSTEL, 3E, PEPSI, Zagori, Vikos etc.
Final, the company ERGOPACK, Vasilis Haritsis, is well known in its field and started with packaging materials, plastic caps basically for water bottlers. It supplied bottlers all over Greece, companies which had no production of their own in stoppers (caps). He then started making PET bottles, mainly small ones for the local market. It continued with large bottles of 5 and 10 liters, while this year it was prototyped with a 17.5 liter bottle, ideal for the movement of olive oil, in place of the 16kg can. This large bottle had a very strong impact last year, although it came out a little late, and this year Vassilis Haritsis expects the market to be filled with this bottle. Finally, the company also dealt with the studies and constructions of photovoltaic parks, an object that has now been completed.